ABOUT THE PACKAGE
---
Pole/Post framing and Pole/Post buildings, commonly known as POLE BARNS, are a building that is supported by vertical poles/post buried in the ground. Designed for Agricultural use, the Pole Barn is one of the most inexpensive, versatile structures available today. It's sturdy post and purling framing with metal skin makes for quick building and long life. They are designed with maximum ventilation in mind to keep condensation to a minimum. Because of this, they are often used for storage of hay or farm equipment. Trusses and "Purlins" are added to the top post to support the roof. Wall purlins connect to the post horizontally. This creates a skeleton structure. That skeleton is covered with metal to create the modern Pole Barn. Since there is no necessity for a floor or foundation, it is the most economical building you can build.
We offer many different sizes of Pole Barn kits, from basic to custom. Our kits can be built by one of our crews, or can be purchased by the do-it-yourselfer. We have many independent contractors that use our kits as well.
Our basic design has been engineered to the current 2006 International Building Codes. We stock material for 23′, 30′ and 40′ wide buildings. We have built buildings from 12′ wide up to 60′ wide. The length of the building can be built to your specific needs. We can make shade for miles if you have the need and the property. We can provide professional engineering services on those custom projects too.
Our contractors build anywhere from 300 to 500 pole barns per year, and we sell an additional 150 to 200 material packages to farmers and "Do-it-yourselfer's" annually. If you think this type of building is what your looking for, we can help.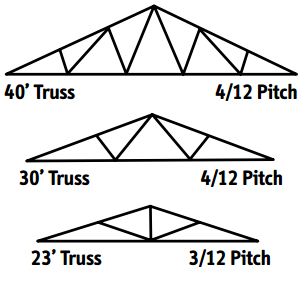 ---
---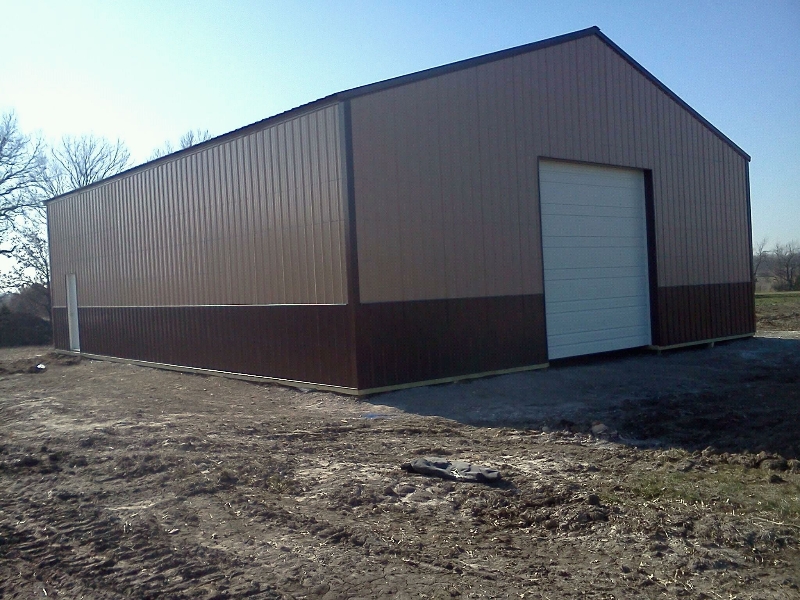 These building are constructed as follows:
• #2 – 5"x5" CCA treated poles a minimum of 2.5' in ground on level site
• 2"x6" treated bottom wrap
• 2"x10" top wrap; all premium length material to tie multiple poles and trusses together
• All purlins (nailers), roof and wall, are spaced 2' apart and are premium length to tie together multiple poles and trusses
• Truss bracing as required
• 29 Gauge heavy duty ribbed steel fastened with 1½" Painted Screws
• All trim and hardware necessary to complete the building, (IE ridge caps, rake, J-trim, ridge closure strips, etc.), are included as part of the basic components.
Options:
• Overhead Doors • Insulation • Rat Guard • Windows • Cupolas • Eve Molding • Weather Vanes • Skylight • Wainscotting
Colors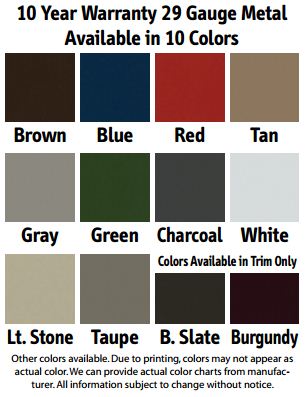 ---